Do You Have 2 Generators And PHCN As Power Sources? Get An Automatic Changeover!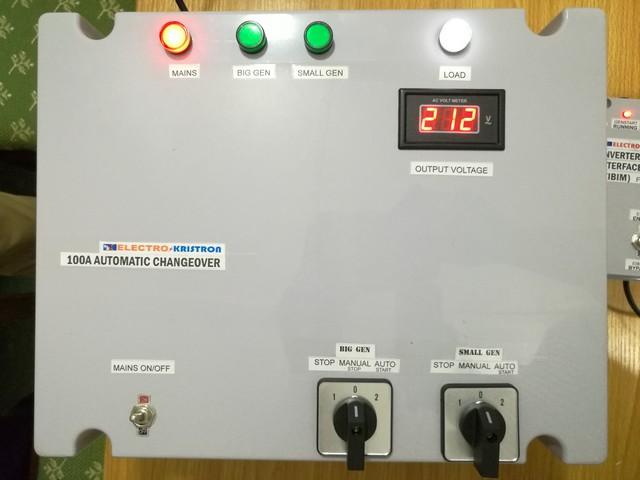 0 out of 5 stars (based on 0 reviews)
Go for ease and convenience, go for safety and user-friendliness. Go for Electrokristron Automatic Changeover.
ELECTROKRISTRON AUTOMATIC CHANGEOVER UNIT is the way to go for your safe electrical power source interchange and 'Power blackout management' options both at domestic and industrial levels.
Order one to replace the manual changeover you currently have. It is very safe for your family as it is fully automatic and your wife or children will never have to physically touch or operate a dangerous manual changeover (that might shock them) anymore
FEATURES AND BENEFITS:
1. It automatically connects your home/office/factory to your Generator whenever public supply fails
2. It automatically changes from Generator mode to PHCN/NEPA mode when public power supply is restored.
3. It automatically STARTS your Generator when public power supply fails (No need to go out in the rain or dead of night to start your Gen).
4. It automatically turns OFF your Generator as soon as PHCN/NEPA is restored (No need to go out late in the middle of the night to turn off your Gen)
5. It can be used to interchange load between various types of power sources including WIND TURBINE/MILL, INVERTER, SOLAR POWER UNIT, two or more separate GENERATORS, PHCN/NEPA etc.
6. It can be used on small or big 'sound proofed' Generators (MIKANO, Marapco etc), key-start or button-start types
6. Unlike other brands that just switch between Gen and PHCN/NEPA, our brand of automatic changeover acts as an intelligent Robot (When installed with our special ELECTROKRISTRON INVERTER INTERFACE MODULE, EIIM) such that:
(a) It switches to INVERTER mode when PHCN/NEPA fails, allowing your Inverter to run and operate for expected number of hours before starting your Generator automatically thereby saving you running costs on Generator fueling and maintenance.
(b) It Monitors your Inverter batteries continuously to ensure they do not drain beyond a safe preset threshold value typically 10.5Volts per battery.
(c) Immediately Inverter batteries attain the threshold level (at 10.5volts, for instance), ELECTROKRISTRON Automatic Changeover starts your Generator and switches over to GEN mode, allowing your Inverter batteries to start recharging.
(d) As soon as PHCN/NEPA is restored, the changeover unit changes over to PHCN/NEPA and stops your Generator, saving fuel, while your Inverter batteries continue to recharge.
7. You can turn off the feature ('AUTO MODE') that automatically starts your Gen on power outage and put the unit on 'USER MODE' (also known as 'Manual Mode') so that you as the user could start your Gen only when you need it running.
8. You can choose to ALLOW or DISALLOW PHCN/NEPA supply (especially in low voltage situations) through the available front left switch on the unit which serves as a Public Mains Power Isolator switch.
9. 3-in-1 Model also available for three (3) separate power sources changeover operations such as for premises with Generator 1 (SOURCE 1), Generator 2 (SOURCE 2) and Public Mains (SOURCE 3).
ELECTROKRISTRON Automatic Changeover Unit (also known as Electrokristron Automatic Transfer Switch, E-ATS) is very versatile, strong, durable and efficient.
See attached pictures of the unit below.
Available as 3-phase units (Can be used in 1-phase situations too), with 1 year warranty.
Free installation within Lagos (labor only).
2-IN-1 MODEL CAPACITIES AND PRICES:
(For 2-in-1 Model. Example: Generator and MAINS/NEPA/PHCN)
32AMPS PRICE: N40,000
45AMPS PRICE: N50,000
63AMPS PRICE: N60,000
100AMPS PRICE: N80,000
200AMPS PRICE:150,000
3-IN-1 MODEL CAPACITIES AND PRICES:
(For 3-in-1 Model. Example: Generator1, Generator2 and MAINS/NEPA/PHCN)
63AMPS PRICE: N80,000
100AMPS PRICE: N120,000
200AMPS PRICE:210,000
DELIVERY WITHIN 2 DAYS IN LAGOS (FOR ORDERS OUTSIDE LAGOS, DELIVERY COULD TAKE 2-5 DAYS)
For more details and orders, pls visit www.electrokristron.com or call +234-9011386383 or send an email to [email protected]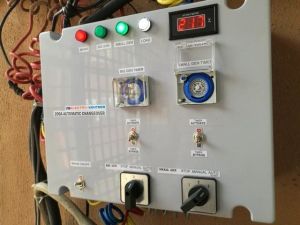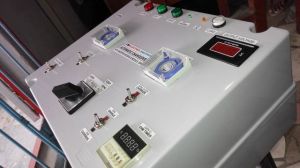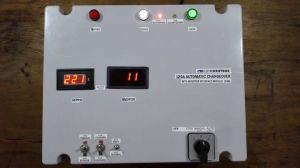 104 views so far
About Author

Power Automation | Controls | Switches

We are into power management and automation solutions.
Get the best deals from us.
Call now.
Trending Posts by Members
---
Connect with post author, Electrokristron Power Systems